Discover Boating Options in Southwest Florida
One of the reasons Southwest Florida is so popular for boaters is that there are endless destinations for day cruising, anchoring, or overnights at marinas. And of course, the aqua blue waters of the Gulf of Mexico, the white sand beaches, and the pristine waterfront and beach front parks are also cherished. We have compiled here a list of over 20 of our favorite boating destinations. By no means is this list exhaustive – there are many, many more boating destinations just a short cruise away.
Click the image at right to open a new tab with an interactive map of these places to go by boat in Southwest Florida.
Oh, and all of these marinas, beaches, and restaurants, bars are most certainly just as fun to visit by car. The only location below that cannot be accessed by car is Cayo Costa State Park (there are ferry services to get you there).

Cape Coral Boating Destinations
Nauti Mermaid Grill and Bar
At the Cape Coral Westin resort, this is by far one of our favorite watering holes. We head to the Nauti Mermaid by boat or car and it's always a beautiful and yummy day there. There is plenty of free transient docking at the Tarpon Point Marina. Take in the scenery, relax and unwind. The Nauti Mermaid offers a casual atmosphere with a variety of menu items made from only the freshest of ingredients. Enjoy fresh seafood, salads, sandwiches, burgers, flat breads and much more.
There is live entertainment on many nights and often events such as boat shows, fishing tournaments, and fund raisers. Enjoy the promenade shops too!

Learn More
Marker 92
Also part of the Cape Coral Westin resort, Marker 92 offers fine dining, authentic cuisine and an nautical ambiance. The menu includes flatbread pizzas made to order, fresh seafood and steaks and a large wine selection. Dine indoors or outside on the patio while overlooking the views of the Caloosahatchee River and Tarpon Point Marina.
Learn More
Cape Harbour
The Marina at Cape Harbour offers a wonderful waterfront shopping destination in Southwest Florida with art galleries, a spa and salon and extraordinary boutiques. The Boutiques are quaint, independently-owned stores that offer everything from unique women's clothing and jewelry to candles, fresh exotic flowers and candies.
Several waterfront restaurants offer a dining atmosphere for any mood or occasion. Across the street at The Boat House, you'll find everything a boater needs, and more.
The deep water marina accommodates large vessels and offers daily, weekly, and longer term wet slip leasing. Day boaters dock free along the seawalls. The marina and community are pet friendly.
Learn More
Rumrunners Grill and Bar
One of the most popular destinations in Cape Coral is RumRunners, a five star restaurant and bar at Cape Harbour. Free dockage along the water side of the restaurant attracts boaters from the nearby canal homes and from around all of Southwest Florida. Casually elegant, this beautiful setting has both indoor and outdoor dining and a lively indoor bar.
Learn More
Boathouse Tiki Bar and Grill
The Boathouse Tiki Bar and Grill is a waterfront restaurant and bar in the Yacht Club area of Cape Coral. Arrive by boat or car and enjoy the beautiful waterfront, sunsets, live music, and great food. The Boathouse Tiki Bar & Grill ​serves some of the best seafood and Cocktails on the water. Ask about their Hook & Cook: You catch it, They'll Cook it!
Learn More
Cape Coral Yacht Club
When people hear the phrase "Yacht Club" they often assume it's a private boating club for the super rich. The Cape Coral Yacht Club is a public, community park along the Caloosahatchee River and has something for everyone.
Cape Coral residents and visitors enjoy the riverfront beach, marina, fishing pier, swimming pool, community center, boat ramp, gas dock, handball courts, and tennis courts. There are also many events held at the Yacht Club, not the lease of which is the monthly Sunset Celebration. The first Wednesday of every month is a sunset party with food, music, and shopping at the 40-50 local arts & crafts vendor booths.
The community center holds many live music events, such as the bluegrass faves Deb and the Dynamics or the local crooners, the Del Prados.
The Fishing Pier is a popular spot for anglers or just a beautiful stroll.
Learn More
Fort Myers Boating Destinations
Fort Myers Yacht Basin
Located at Mile Marker 135 on the Okeechobee Waterway, 15 miles inland from the Gulf of Mexico, the Fort Myers Yacht Basin is a protected marina. It is owned and operated by the City of Fort Myers. There is 10 feet of water in the ICW and an average of 6 feet of water at the docks. The docks are in good condition and staffed with professional, friendly people. This a great place to dock and attend events in downtown Fort Myers such as ArtFest and MusicWalk. Also there are plenty of shopping and dining options along with great entertainment.
Learn More
Gulf Harbour Marina
The marina has accommodations for up to 97'+ vessels, with pump-out facilities available at each slip. The fuel dock is equipped with both 90 octane and diesel fuel. Other amenities include restrooms with showers, laundry facilities, a Ships' Chandlery and The Marker 73 Café. Slips are available for purchase or lease, and transient docking is available for short term visitors.
Learn More
The Marina at Edison Estates
Accessible right from the Caloosahatchee River, dock and dine or stay all day. Enjoy a true Florida dining experience at Pinchers or explore the famous Fort Myers River District and all the excitement downtown has to offer.
Learn More
Fort Myers Beach Boating Destinations
Mantanzas on the Bay
This wonderful location has great water views and serves Seafood/Shrimp/Steaks and drinks in a traditional Florida setting. The Upper Deck bar is has nightly Entertainment and great pizza. Mananzas is known for "Old Florida" casual atmosphere.
Learn More
Doc Fords Rum Bar and Grille
Doc Ford's Fort Myers Beach sits on the back of beautiful Estero Bay on San Carlos Island. Head there by car or boat and experience live music and happy hour and watch the largest shrimp boat fleet in the U.S. head in and out of the Gulf of Mexico thru Matanzas Pass. The menu includes many Caribbean and Cuban inspired entrees, soups, flatbreads, and more. (If you know who Doc Ford is, then you are a Randy Wayne White fan. So are we.)
Learn More
Pink Shell Resort
This easy-access marina is on Estero Bay (the back bay of Fort Myers Beach), just 6 minutes from the Gulf of Mexico. Enjoy a resort treat with access to three pools, two restaurants, full-service spa and quarter mile of sugar white sand beach with water sports and unlimited entertainment. The marina has 41 slips up to 100 feet with floating docks, each with power and water hookups.
Learn More
Pine Island and Matlacha Boating Destinations
Waterfront Restaurant – St. James City
The Waterfront Restaurant & Marina, located at the southern tip of Pine Island is a local favorite and sought out by savvy travelers who have heard of its delicious food and casual atmosphere.
Learn More
Bert's Bar
In Matlacha, Bert's has had a colorful seventy years of history and is the home of many stories of its past and is known for great food and live music.
Learn More
Woodys Waterfront Grill
This location on Pine Island is laid back, with indoor and outdoor seating, serving fresh gulf seafood, BBQ, and burgers.
Learn More
Sanibel – Captiva Boating Destinations
Tween Waters Inn
Tween Waters Inn and Marina on the back side of Captiva island is a great place to dock for lunch (yummy burgers and grouper sandwiches), a swim in the resort's pool, and a walk on the beach. The marina is friendly to short-stay visitors whether for a few hours or a few nights. Marina guests can take full advantage of the resort facilities.
The marina and the resort are pet friendly.
The inn is named for its location: between Pine Island Sound (part of the inter coastal waterway) and the Gulf of Mexico.
Learn More
South Seas Resort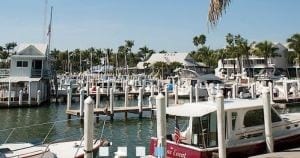 South Seas Resort at the northern end of Captiva-Sanibel is located in North Pointe. The Yacht Harbour and Marina features 2,400 feet of alongside berthing for boats up to 120′. Bayside marina has a boat launch and dockage for boats under 25′. Advance arrangements are required with the Harbormaster prior to launch or to dock at the Bayside marina.
Marina guests can enjoy all the amenities, including the beach, pools, restaurants, and BBQ grills. The marina is pet friendly.
Learn More
Anchoring And Beaching in Southwest Florida on the Gulf of Mexico
There are endless beautiful spots to drop anchor, have lunch, and have a swim in the aqua blue waters of the Gulf of Mexico. Here are a few of our favorites.
Fort Myers Beach – Lover's Key State Park
Lover's Key at the south end of Fort Myers Beach is one of the top rated beaches in the nation. A haven for wildlife, the islands and their waters are home to West Indian manatees, bottlenose dolphins, roseate spoonbills, marsh rabbits, and bald eagles. The two mile long beach is accessible by boardwalk or tram and is popular for shelling, swimming, picnicking, and sunbathing. Black Island has over five miles of multiuse trails for hiking and bicycling. Anglers and boaters can launch their vessels from the park's boat ramp. The park's concession offers kayak tours, as well as bicycle, canoe and kayak rentals.
Many people drop anchor and swim up to the beach. For smaller boats, beaching and tying an anchor to shore is also common.
Learn More
Fort Myers Beach – The Pier & Lynn Hall Memorial Park
Lynn Hall Memorial Park is located on Ft. Myers Beach, just north of the foot of Matanzas Pass Bridge, next to "Times Square" in the heart of downtown. This lively Gulf-front park is conveniently located adjacent to shopping and restaurants. It features a licensed fishing pier with bait/gift shop, shelters with grills for picnicking (available on a first come first serve basis only), outdoor freshwater rinse off showers, restrooms with changing facilities and accessible beach access.
There is no marina at the park, but it is a popular spot to anchor and swim up to the park, to walk the beach, or enjoy food and entertainment at the Lani Kai or other beach front venues.
Learn More
Fort Myers Beach – Bowditch Beach Park
Bowditch Point Regional Park is 17-acres that is located at the northern tip of Estero Island. It is actually a dual-use facility in which approximately seven acres are a developed park for passive recreational use and the remaining 10-acres are a restoration/preserve area. This serene location, which encompasses the entire end of the island, offers a choice of settings to fulfill your needs. The backbay offers quiet waters, peaceful surroundings and a close up look of vessels entering and exiting the bay. The park area features tables and grills, available on a first come first serve basis, in a shaded tropical setting sure to please any picnicker.
The gulf front is more active while still providing a relaxed atmosphere for walkers, swimmers and sunbathers. Walking trails, through the restoration/preserve area, carry you through varied environments and offers an excellent opportunity for bird watching while being highlighted by panoramic views of Estero Bay. This is one of the first beaches Lee County Parks & Recreation made accessible for individuals with disabilities from parking area to the Gulf of Mexico. There is also an accessible boat dock.
Free day docks open for boaters at Bowditch Point. The docks feature 10 slips for boats up to 28-feet in length and a paddlecraft launch onto the Great Calusa Blueway Paddling Trail.
Learn More
Cayo Costa State Park
With nine miles of beautiful beaches and acres of pine forests, oak-palm hammocks and mangrove swamps, this barrier island park is a Gulf Coast paradise. Cayo Costa is accessible only by private boat or ferry. Visitors may see manatees and pods of dolphins in the waters around the 2,426 acre park, as well as a spectacular assortment of birds. On the island, visitors can swim or snorkel in the surf, enjoy the sun and picnic in the shade. Keep your eyes peeled as you stroll along the beach, especially during the winter months. The nature trails that crisscross the island provide opportunities for hiking and off-road bicycling. Saltwater anglers can fish from their boats or throw a line out into the surf. An amphitheater provides educational programs about the island's ecology and history. For overnight stays, the park offers primitive cabins and tent camping which can be reserved through Reserve America up to 11 months in advance.
Boaters anchor just off the beach, beach the boat, or anchor on the back bat (Pelican Bay).
Learn More
Related:
About Waterfront in Southwest Florida
About Southwest Florida – Cape Coral, Fort Myers and the Beaches